Prior Event Recordings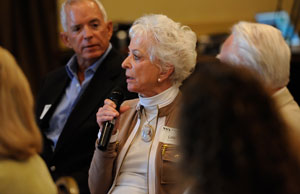 As you may have heard, our events are very special. That's why we want you to hear what you've been missing... fortunately; our events are professionally recorded by Dave Morton, from Legacy of Learning.
Each recording is only $17 and the audio file will be delivered to you via e-mail.
Creating a Speaking Business Strategy That Generates Winning Results




January 2015

with Steven Iwersen
---
To Turn Your Keynote Into Bookings And Profit




November 2014

with Mike Rayburn CSP, CPAE
---
The Findability Formula




October 2014

with Heather Lutze
---
Double Your Bookings - Turn your Signature Talk into an Experiential Workshop




September 2014

with Jean M. DiGiovanna of Workshop University
---
Success Tools for the Speaking Business




June 2014

with Shep Hyken
---
Get Paid for Your Value




May 2014

with Steve Lishansky
---
Creating Systems to put You Center Stage




April 2014

with Ruby Newell-Legner, CSP
---
KEYS to the KEYNOTE




March 2014

with Walter Bond, Judy Jernudd and Patricia Fripp
---
Master-Level Fireside Chat




February 2014

with Jim Cathcart
---
When You Add Hollywood Pizzazz to Your Presentation




November 2013

with Patricia Fripp and Michael Hauge
---
Sell Less... Win More! - Seven Principles for Helping Speakers Find, Win and Keep Customers for Life




October 2013

with Tim Wackel
---
Be the News




September 2013

with Jill Lublin
---
How To Turn A Speech Into A Six-Figure Relationship




June 2013

with Ron Karr, CSP, Incoming NSA National President
---
Blogging for Your Business
(and Bottom Line)


March 2013

with Evan Marc Katz and Meg Favreau
---
Find Your Message and Get Laughs




April 2013

Presented by Judy Carter, Comedian Extraordinaire
---
Growing Your Speaking Empire




March 2013

Presented by Ford Saeks
---
Why WAIT to be GREAT? - It's either NOW or TOO LATE




January 2013

Presented by Terry Hawkins, CSP
---
Internet Marketing: A Three Prong Attack on a Seven Figure Income




October 2012

Presented by Tom Antion
---
Book It! The Secret to Bounce!


Turning a Speech into a Life and a Career!

September 2012

Presented by Thomas Winninger
---
Creating Distinction in the World of Professional Speaking

August 2012

Presented by Scott McKain
---
Humor Palooza

June 2012

Presented by Ron Culberson
---
Right Place Right Time

May 2012

Presented by Phil Van Hooser
---
A Branding Extravaganza!

April 2012

Presented by Dick Bruso
---
Getting Clients/Selling Products

March 2012

Presented by Shep Hyken
---
Selling to the Corporate Market

November 2011

Presented by Jill Konrath
---
Rainmaker Strategies to Grow Your Business

September 2011

Presented by Ed Robinson
---
How to Use Social Media to Turbo-charge your Speaking Business

May 2011

Presented by David Nour
---
How to Improve Your Speaking Career by Making Great Strategic Decisions

March 2011

Presented by Jim Cathcart
---
Making Meetings Magic

November 2010

Presented by Lou Heckler
---
Leave'em Laughing

October 2010

Presented by Lola Gillebaard & Bill Stainton
---
Design Your Million Dollor Speaking Engine

September 2010

Presented by Robert Bradford
---
How Speakers Can Develop Their Own Million Dollar Web Sites

April 2010

Presented by Chad Barr
---
Experience The Meeting of The Future

October 2009

Presented by Matt Homann